SigningHub is a web application that implements a shared Workflow System, allowing the review, signature, approval and subsequent archiving of duly signed, dated (chronological stamp), safe and complete documents.
Allow your employees, customers and partners to sign critical business documents anywhere in the world, using a variety of devices such as iPad, iPhone and Android smartphones.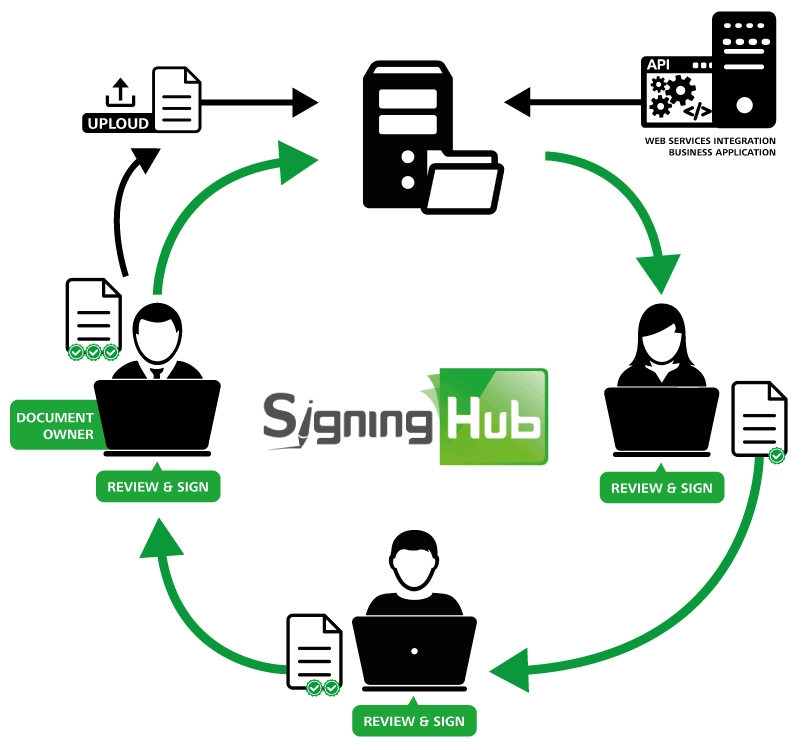 CHARACTERISTICS
SAFETY
Security is our priority! SigningHub is simply the most secure digital signature solution available in the market.
Interoperability
Digital Signatures are based on open standards, allowing them to be validated out of the platform.
Powerful solution
SigningHub is a very powerful solution, but also incredibly intuitive, making it very user friendly.
Truly mobile subscriptions
Sign on mobile devices with the utmost convenience and security. Compatible with Android smartphone, Iphone and Ipad.
Legal certainty
The digital signatures used in SigningHub are qualified electronic signatures according with the European Legislation (eIDAS Regulation), and deem to be equivalent to handwriting signatures.
Cloud Platform
High availability remote signature service. The SigningHub can also be deployed on premises or private in-country hosting or public cloud service.
DOCUMENT REVIEW AND SIGNING
SigningHub enables the management of approval workflows, to simulate real world scenarios, such as delegated, group and batch signing of multiple documents at once.
ACCESS ANYWHERE
SigningHub is universal and can be used on any device, operating system and browser. Also, the SigningHub API can be integrated in your own applications.
BUSINESS MANAGEMENT CONTROL
Deploy SigningHub in your organization and invite your employees to the platform, where you will be able to manage access permissions and set your own corporate signature policies, with complete real time visibility of your document's signing process.
PREPARATION OF DOCUMENTS FOR SIGNING
All the features you need to prepare your documents for signing, such as adding signers, setting a signature order, document permissions, legal notices, and more. Create workflow templates and automatically apply them to future documents.
USER AUTHENTICATION
SigningHub can verify the identity of people in your signing process using various techniques. The authentication architecture allows you to set single-factor or multi-factor authentication methods, as well as using existing digital IDs from external identity service providers.
LEGAL COMPLIANCE
It is essential to ensure that your electronic and digital signatures are legally acceptable in different jurisdictions, especially if your organization operates across borders. SigningHub was developed in compliance with user authentication standards and long-term secure digital signatures, mainly qualified digital certificates, but also accepting electronic signatures from other trusted jurisdictions, requiring only a simple parameterization.

Use in 3 simple steps

How it works - standalone mode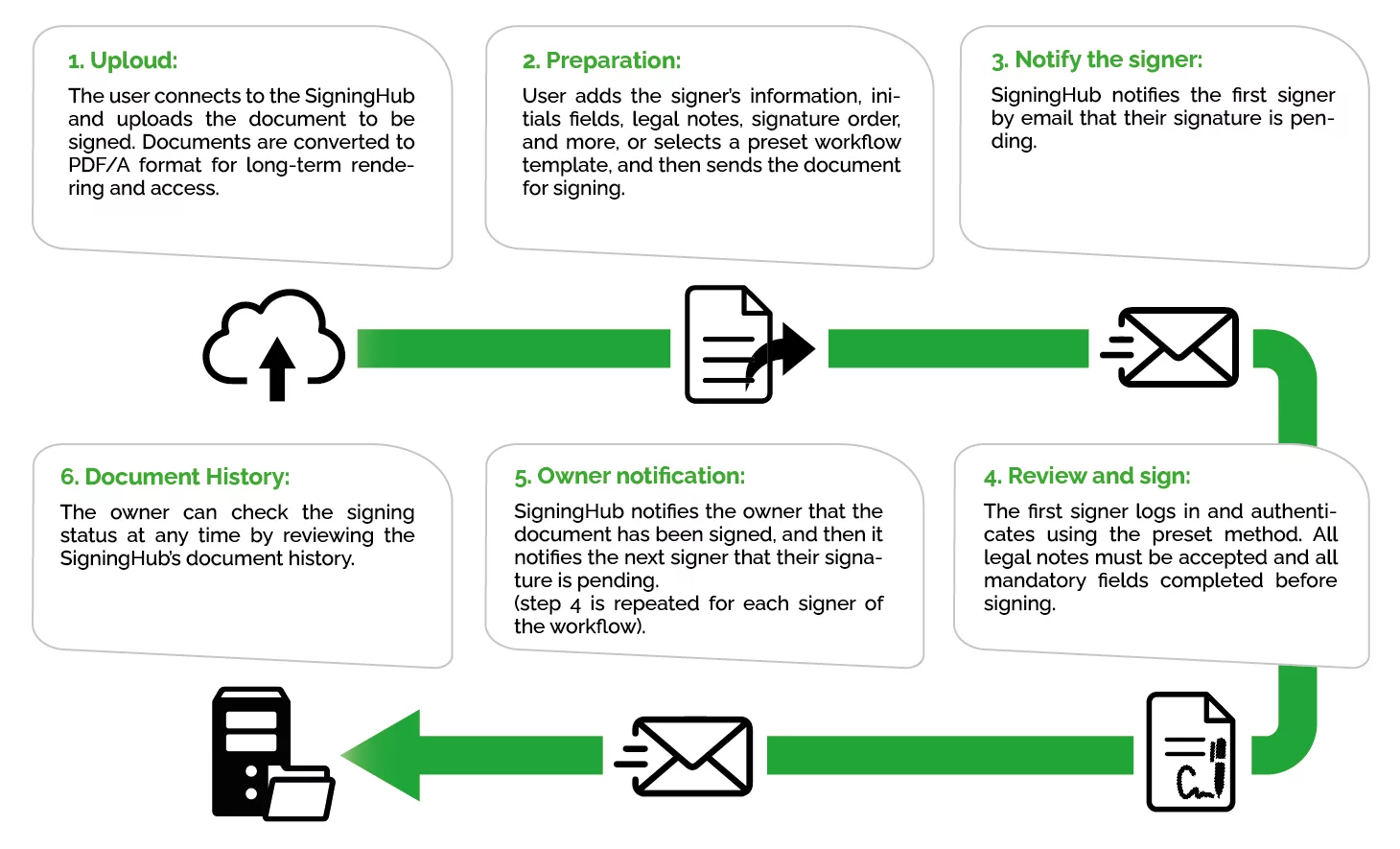 Want to be contacted?
Leave us your details.
We call you!